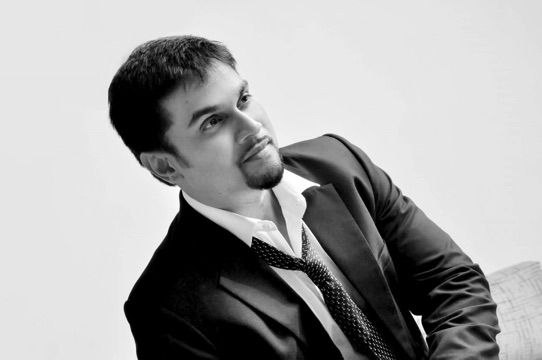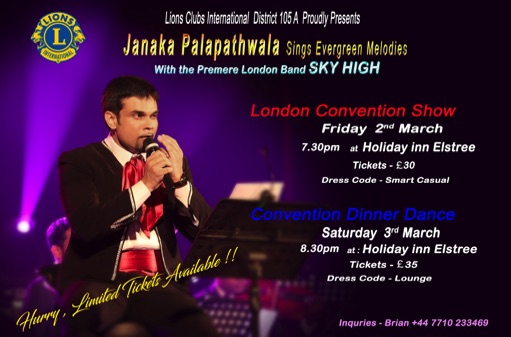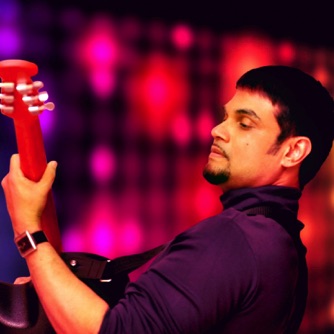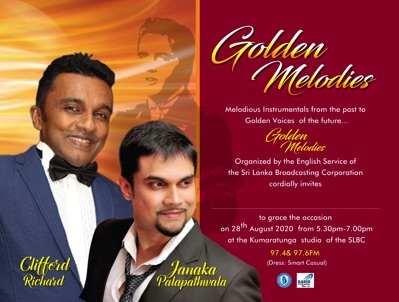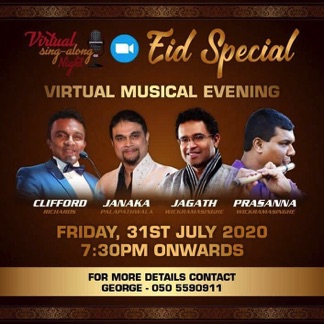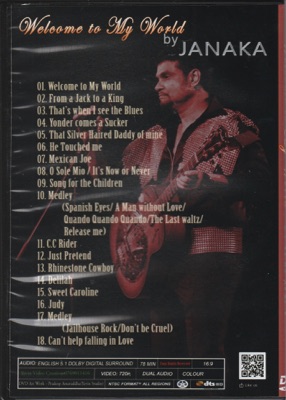 MICHELLE TISSERA: - Elvis may have left the building but Janaka Palapathwala hasn't. The stage is his and he sets it ablaze with his smooth as silk vocals guaranteed to give his audience especially the ladies and maybe the men too, the 'goosies'.
He took a break from school in 1989. In 2001, he started singing in talent contests and was a finalist. His popularity saw his audience base grow and soon he was flooded with professional contracts. From 2001 to 2003, Janaka had performed with various bands in Sri Lanka. He took a break from music in 2004 and headed overseas in search of the bright lights of Dubai where he pursued other business interests.
This sparked his second comeback which was a phenomenal success and he nailed his sold-out 'It's now or never show' in 2014.
A decade later, the call of music and performing beckoned and he planned his comeback after a 10 year long hiatus, refreshed and confident.
He happened to be at a dinner/dance where Sohan Weerasinghe was doing an Elvis medley. He invited Janaka up on stage who after much persuasion, performed Blue Suede shoes to an ecstatic audience that wanted more.
Soon, he was approached by some active National Christian Council (NCCSL) members of Sri Lanka who had seen him perform at his Elvis show. Keen to offer something different, he came up with 'The Jim Reeves Show with Janaka' and performed to a sold out house yet again. His well-heeled audience were delighted and they didn't need to look any further. He was Sri Lanka's answer to the King of Pop and Gentleman Jim.
Janaka began to actively participate in singing competitions and church choirs.
He became the president of music associations and performed as an Elvis impersonator at various functions and events.
He nailed those acts with his infectious charm, talent and joie de vivre and quickly became known as Sri Lanka's very own Elvis.
Janaka obtained vocal training and professional guidance from Mrs. Mary Anne David, a prominent teacher who has shaped and inspired many great voices in Sri Lanka. Her training enabled him to perform successfully in many concerts both in Sri Lanka and overseas.
Janaka is no stranger to the media and has been extensively featured in leading newspapers in Sri Lanka like the Leader, Nation, and other media outlets.
'I've been covering Jim Reeves, Elvis Presley, Engelbert Humperdinck, Tom Jones, Neil Diamond etc.," he owns up that 'I realized I need to have originals of my own, both in my mother tongue and of course, in English where my fan base is. So far I have released two Sinhala originals and two English originals. Few more lined up complete but yet to be released.'
BIGGEST ORCHESTRA BACKED SL SHOW
My comeback concert was titled 'It's now or Never' under the direction of ''Kalasuri'' Harsha Makalande that was held at Galadari main Ballroom premises. Harsha's orchestra had 31 members and four backing vocal artists. This happened to be the first ever concert to be backed by such a huge orchestra in the western music field in Sri Lanka.
THE JIM REEVES SHOW
Then in 2015, under the direction of Suresh Maliyadde, I had a concert titled 'The Jim Reeves Show' at the Bishop's College Auditorium. Since then I have been travelling around the world performing concerts mainly in Canada, Australia, England, United States etc..
In 2018, I held another concert in Sri Lanka titled 'Welocme to My World' under the direction of Dinesh Subhasinghe."
Taking it from there, another high point in Janaka's music career has been his appearance on the television whilst his songs are also aired in Australia, New Zealand and England.
"I'm a solo artist performing with an orchestra under the direction of a professional music director or with a local band where ever I perform in the world,"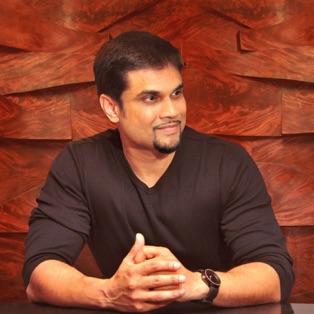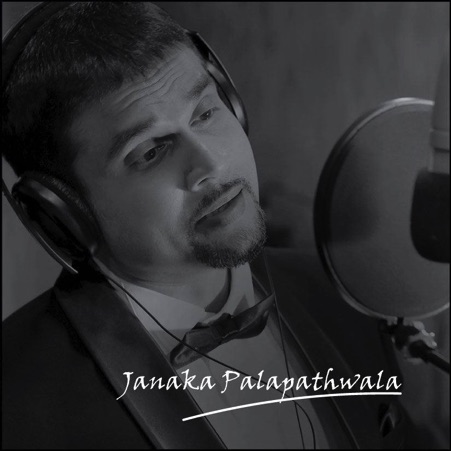 Janaka has kept Gentleman Jim Reeves a hit in Sri Lanka and worldwide for the past decade through his hugely successful concert series 'The Jim Reeves Show' & 'The Jim Reeves Way'. Janaka has brought Jim Reeves back closer to the hearts of many thousands of people. The talk in every town is that Jim's fans in the world need not look any further than Janaka to warm their hearts with the mellow velvet voice of Jim Reeves. 
Over the last decade, Janaka has performed in solo concerts in Sri Lanka, London UK, Toronto Canada, Melbourne, Brisbane, Gold Coast in Australia and many cities in The United States such as New York, Washington DC, Los Angles, San Francisco, Minneapolis etc..
Janaka, who is uniquely gifted with his smooth silky vocals also has the uncanny ability to bring the King of Rock 'n Roll Elvis Presley back on stage. He has performed covering Elvis hits at various functions and events in Sri Lanka and overseas. Janaka nails those Elvis acts with his infectious charm, talent and joie de vivre. For this, King's fans have fondly dubbed him as Sri Lanka's very own Elvis.   
Janaka's "It's Now or Never" is his own solo signature Elvis show, which he had performed in Sri Lanka and overseas. His fans claim that when Janaka sets the stage ablaze with his silky smooth vocals, his audience -- especially the ladies and maybe the men too – are guaranteed to get the 'goosies'. 
This page is currently being updated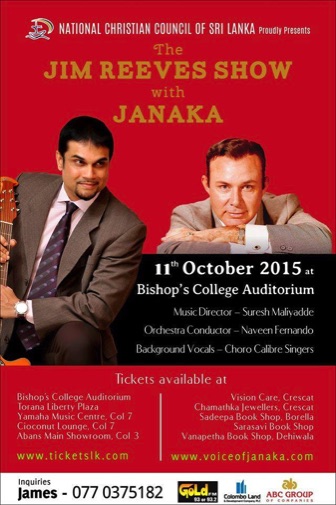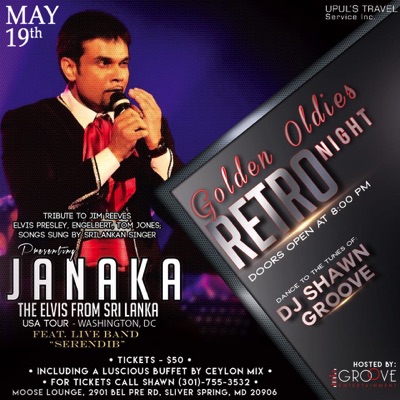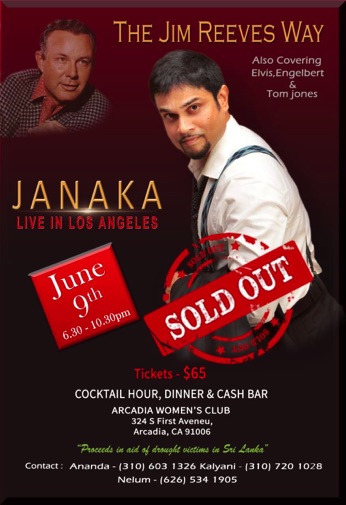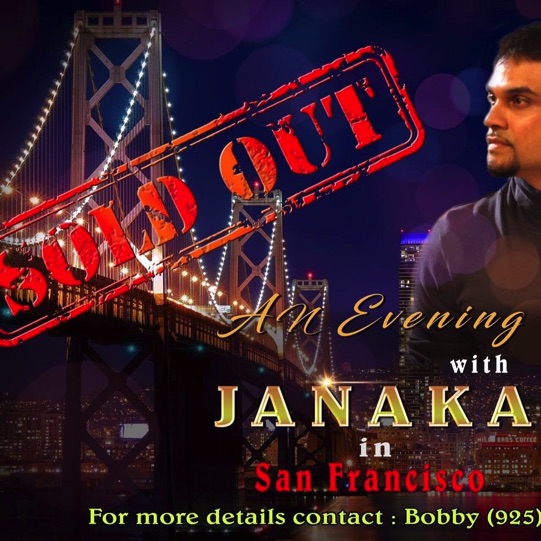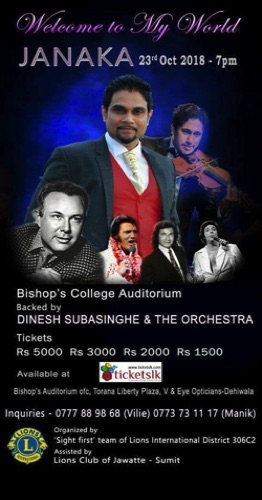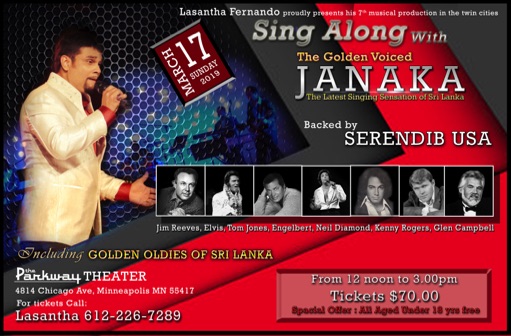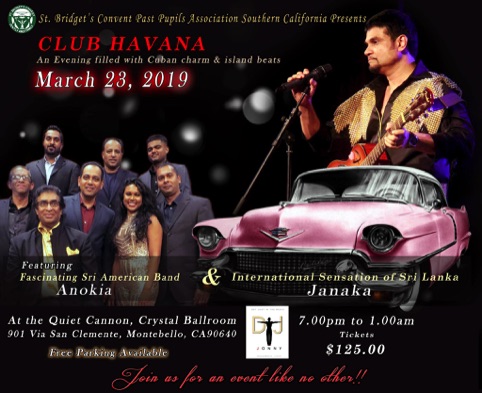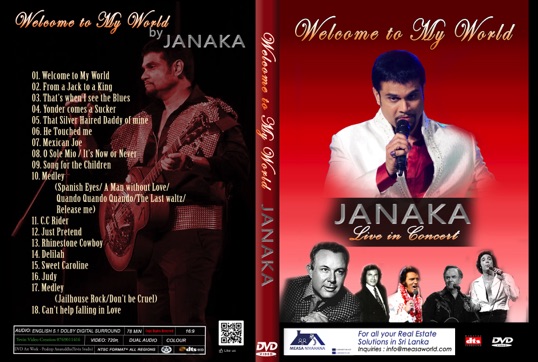 Born in 1970. Music runs in the family and all his siblings can play and sing.